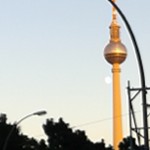 Our first time in the capital… it was a blast! Just what are the odds of letting 18 musicians loose in Berlin and have them walk into each other eventually? And why do Berliners jump off this house at Alexanderplatz? Or are these just disappointed tourists? Thanks to our catering team and our bus drivers (a job that is seemingly best suited to our brass section:)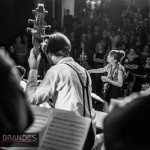 Back in Munich: playing the Milla was once again amazing. It is quite possible that we play there more regularly from autumn on… we would be thrilled to do so!
We were headed back north just after that to play Fusion Festival… and what a festival it was! The most lovingly put together works of art, visual installations, optical illusions, just mindblowing. Our piece "Irrlicht" would have felt right at home in an art forest full of lights and colors. Alice in Wonderland was ever present somehow and our visual artist Sascha Bank could run riot to her hearts content with the 3D artists of Urban Screen.
The journey continued.
Our next stop was
Alto Adige Jazz Festival in Italy. We had to supply ourselves with 18 reflective vests (it's the law) in order to use the motorway. So why not turn this utter useless stuff into shiny stage outfits? No sooner said than done:) We play castle Sigmundskron in Bozen and the dome square in Brixed. The atmosphere was sensational! Oh you delicious "Schlutzkrapfen", we already miss you!
Right now, we are rehearsing new music and hope to see you in Bezau, Austria on July 30, at Lott Festival on August 3 or at the Hafensommer Festival in Würzburg on August 9. Can't wait! See you soon!
Buona Giornata!
Moni and Bigband